1 x TANK [PM] Premium Pure Skywhip Pro Max 580g Cylinders Cream Charger N2O + 1 Nozzle + 1 Pressure Regulator and Adaptor + 1 Whipper 0.5L
SKYWHIP PRO MAX 580g Whipped Cream Chargers + Pressure Regulator + Whipped Whipper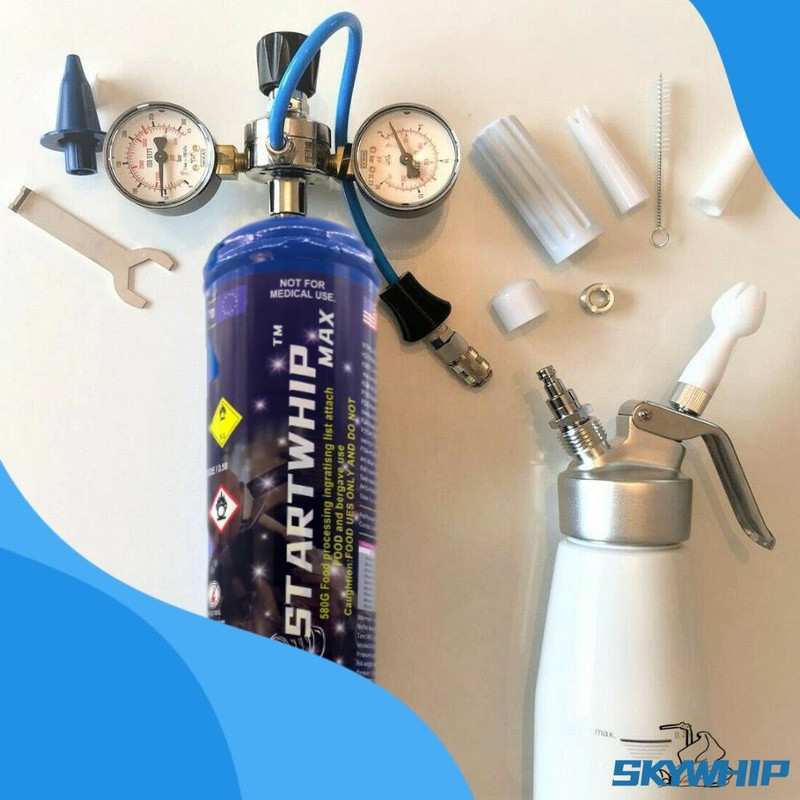 Features and further details
SKYWHIP PRO MAX 580g 
THE PUREST, THE CLEANEST, NO FLAVORED!

STARTWHIP Max & SKYWHIP Pro Max is the best product in Australia.
We are THE FIRST COMPANY producing 580g N20 tanks Max cream chargers!
Each 0.95L Whipped Cream Charger contains 580g of the highest culinary grade n20 gas available, and considerably reduces wastage vs 78 of 8g standard whipped cream chargers per 1 of our units.
Pressure Release Nozzle - included each whipped cream charger in every order. With the spinning nozzle, Use this nozzle to get rid of any left-over gas in order to safely dispose of the cylinder. Easily dispose of a whipped cream charger at an iron dump near you.
PRESSURE REGULATOR & HOSE KIT
Connect to any standard cream whipper and easily fill to the desired pressure.

Prepare all kinds of drinks and dishes, ranging from the classic whipped cream to rapid-infused garlic-rosemary chicken to N2O infused cocktails! Our  Startwhip cream chargers give you unlimited variety through a single culinary tool. Not only is it easy to use, but you gain many benefits!

Listing is for the regulator set only. canisters sold separately.

WARNING Please only dispose or empty canisters.
500ML CREAM WHIPPER FOR 8g CREAM CHARGERS
Article: 500ML 

Capacity: 0.5 liter 

Color: Random color

Substance: aluminum bottle, plastic high impact head 

Perfect for Hot & Cold applications 

Great for restaurants, ice cream shops, coffee shops, bars, and bakeries 

Includes: x3 decorator tips, cleaning brush, charger holder &instruction

 

manual

Weight/cardboard: 0.75kg

Size/cardboard: 8.5×8.5×30 cm
Contact us
We can be contacted at any time if you have any questions, comments, or product requests. We encourage our customers to contact us with any questions or concerns! We'd like to be sure you are completely satisfied with your purchase.
Payment

Paypal, American Express, G pay, Apple Pay, Visa card, and Mastercard.

Shipping

All our parcels will post by Eparcel or Aramax service and comes with tracking and signature upon delivery. We also offer Pick Up in Store option to Melbourne customers.

Orders placed and paid for before 2:00 PM AEST (Monday to Friday, excluding public holidays) will be posted out on the same day. Once your order has shipped you will receive an email with an estimated date of arrival and tracking details.

Disclaimer

Whipped Cream Chargers, for Food/ Kitchen/ Bar USE ONLY, NOT FOR THE MEDICAL USE, NOT RECYCLABLE,

Must be over 18 of Purchasers!
https://www.skywhip.com.au