0.5L Whipper & 360 Bulbs Whip-it Professional Cream Chargers – Pure N2O
Free eBay listing template designed by dewiso.com
Whip-It! N20 Cream Chargers & 500ml Whipped Whipper
Since Whip-It! cream dispensers and cream chargers were created, Whip-It! the brand has become the culinary choice for master chefs, food enthusiasts, and home cooks. Manufactured to the highest quality standards, Whip-It! brand products deliver unmatched features, superior experiences, and meet ISO 9001, ISO 9002, and TUV certification requirements.
All our products come with a CE Certification and conform to manufacturers' compliance standards & certifications: FDA, ISO22000(2005), ISO 9001, ISO 9002, ISO 14001. Compliance with TUV, NSF, and HACCP.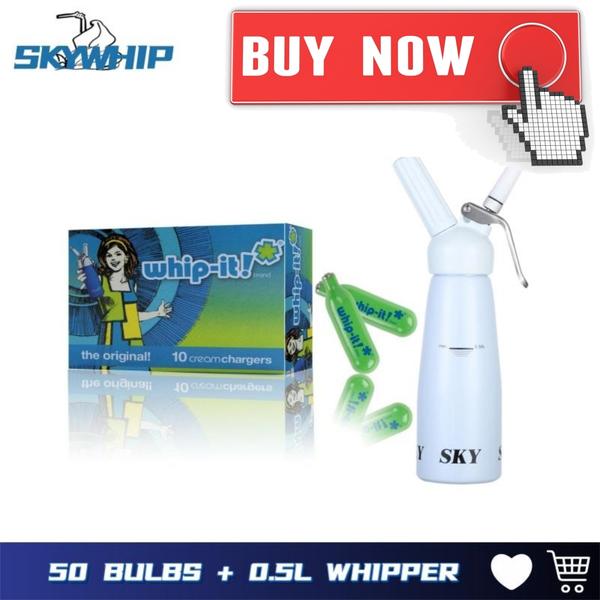 Features and further details
Whip It! N20 CREAM CHARGERS
Filled with certified pure culinary-grade 8.4g Nitrous Oxide N2O gas.

Guaranteed no duds or leakage.

Guaranteed no oily residue or industrial aftertaste.

Made of 100% recyclable steel.

Zinc coating prevents kitchen moisture from causing rust on the charger.

Easy Installation.

Disposable (Note: dispose of empty cartridge only)

Cost-effective 
500ML CREAM WHIPPER - PRODUCT FEATURE
Disposable (Note: dispose of empty cartridge only)

Cost-effective 

Brand New

High Quality

Cream foaming 

500ML 

Aluminum

Selected Color

Material: Aluminum

Easy to use and clean

To dispense, simply load, flip, and squeeze
Contact us
We can be contacted at any time if you have any questions, comments, or product requests. We encourage our customers to contact us with any questions or concerns! We'd like to be sure you are completely satisfied with your purchase.
Payment

Paypal, American Express, G pay, Apple Pay, Visa card, and Mastercard.

Shipping

All our parcels will post by Eparcel or Aramax service and comes with tracking and signature upon delivery. We also offer Pick Up in Store option to Melbourne customers.

Orders placed and paid for before 2:00 PM AEST (Monday to Friday, excluding public holidays) will be posted out on the same day. Once your order has shipped you will receive an email with an estimated date of arrival and tracking details.

Disclaimer

Whipped Cream Chargers, for Food/ Kitchen/ Bar USE ONLY, NOT FOR THE MEDICAL USE, NOT RECYCLABLE,

Must be over 18 of Purchasers!
https://www.skywhip.com.au