Wholesale STARTWHIP MAX Whipped Cream Chargers 580g N2O Cylinders
Free eBay listing template designed by dewiso.com
Wholesale STARTWHIP MAX 580G Cream Chargers N20
Contact us to get the current wholesale prices of STARTWHIP MAX 580g N20 cylinders cream chargers. We can provide massive discounts when you purchase bulk cream chargers.
Get cheap prices on the top cream charger brands when you purchase wholesale.
Please contact the following email for further information.
Send a message to WHATSAPP on +61475614775
Email:  SALES@SKYWHIP.COM.AU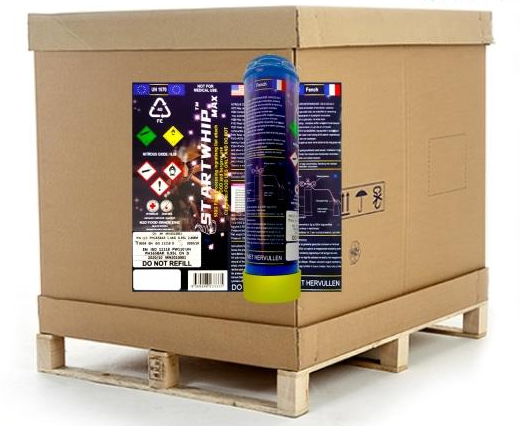 Features and further details
See our range of wholesale cream charger brands. Contact us for wholesale cream charger prices.

Get Wholesale STARTWHIP PRO MAX 580g N20 tanks cream chargers and save with bulk pricing.

Food/Kitchen/Bar USE ONLY, NOT FOR THE MEDICAL USE, NOT RECYCLABLE, Must be over 18 of Purchasers!

The new version of Whipped Cream Chargers – Startwhip Max 580g 99.9% Nitrous oxide The new solution for the hassle of industrial catering!

Compared to the traditional cream chargers, this new larger cream charger enables the user to have greater amounts of nitrous oxide at their disposal. The easy-to-use cream charger is compatible with any m11 pressure gauge and filling system. Its feature enables everyone to use the product and gain the benefits

!
Contact us
We can be contacted at any time if you have any questions, comments, or product requests. We encourage our customers to contact us with any questions or concerns! We'd like to be sure you are completely satisfied with your purchase.
Payment

Paypal, American Express, G pay, Apple Pay, Visa card, and Mastercard.

Shipping

All our parcels will post by Eparcel or Aramax service and comes with tracking and signature upon delivery. We also offer Pick Up in Store option to Melbourne customers.

Orders placed and paid for before 2:00 PM AEST (Monday to Friday, excluding public holidays) will be posted out on the same day. Once your order has shipped you will receive an email with an estimated date of arrival and tracking details.

Disclaimer

Whipped Cream Chargers, for Food/ Kitchen/ Bar USE ONLY, NOT FOR THE MEDICAL USE, NOT RECYCLABLE,

Must be over 18 of Purchasers!
https://www.skywhip.com.au